UniScan
" data-cycle-tag="Multi-mission ground receiving station" data-cycle-text="is a hardware and software system for receiving and processing information from low-orbit ERS satellites in real time. Data received:" data-counter="true" >
Scanex Image Processor
" data-cycle-tag="Software" data-cycle-text="is a multipurpose system for the photogrammetric and thematic processing of satellite images, characterised by high efficiency and the automation of most key processes. The system was developed in Russia." >
Real-time monitoring
" data-cycle-tag="Surveillance system" data-cycle-text="implies 24/7 monitoring of adverse natural and anthropogenic processes and phenomena, expert evaluation and forecasting of situation development." >
FIRE SCAN
" data-cycle-tag="Промо" data-cycle-text="FIRE SCAN" >
Unique technological cycle
SCANEX is the only company in Russia and the CIS engaged in the direct reception of data from ERS satellites via its own network of stations. Processing that satellite data using its own technology and providing access to satellite imagery and products derived from them through geoportal services was key to the development of the company, which guarantees low data pricing and high efficiency of order fulfilment for all customers.
for implementing complex thematic projects in various economy sectors based on relevant satellite information
Why choose us

25 years
of successful market operations

Online
data access

Exclusive
distributor of the world's leading operators

Private
receiving stations and software

Unique
extensive data archive
for access to spatial information and integration in the organisation's internal systems and databases or external websites
Press center
04 April 2023
A study of the Ob-Yenisei plume structure conducted with the support of SCANEX Group
Frontiers in Marine Science, a reputable research journal, has published a report on the joint study conducted by the researches of Shirshov Institute of Oceanology of the Russian Academy of Sciences, Moscow Institute of Physics and Technology, Marine Research Center at Lomonosov Moscow State University, Marine Hydrophysical Institute of the Russian Academy of Sciences and V.I. Ilyichev Pacific Oceanological Institute. The study is entitled "Structure of the Ob-Yenisei Plume in the Kara Sea Shortly before Autumn Ice Formation". The authors of this paper extend gratitude to SCANEX Group for providing necessary AIS data.
06 October 2021
Radar Interferometry Facilitates Obtaining Data on Earth Motion
According to media reports, in the Lazarevsky district in Sochi heavy rainfall has provoked the movement of the soil causing the displacement of 20 residential buildings (8 of them were occupied) and road destruction. Gas pipeline and power electric line support systems have bent, gas and electricity supply in the cottage village has been turned off. There are no fatalities or injuries, residents have been evacuated.
Image of the week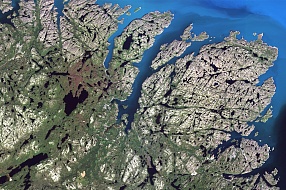 Image of the Week: Сoloring of the Arctic
Images archive
All news
Our websites
Conference
"Earth from Space"
Discussion platform for problems and development directions regarding the remote sensing of the Earth, as well as potential cooperation between the state and private business sectors.

UNIGEO
Consortium
A non-profit partnership of universities created to unite intellectual and technological resources and to improve the level of education, science and training of qualified personnel for the industry.
Magazine
"Earth from Space"
A popular science magazine covering a wide range of issues, from the preparation and processing of satellite images to the thematic analysis and practical applications of the acquired data.
Быстрый заказ снимка